Christian Living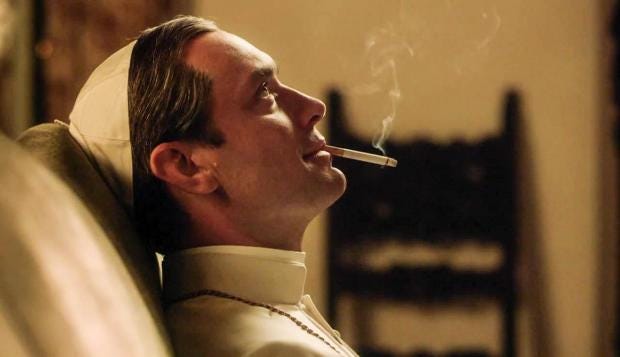 The New HBO Series "The Young Pope"
I know that this is fiction, but I can't help but see a connection to reality that I hope will cause The Church to think about The Will Of God In Our Lives and that some how our Lord and Savior Jesus Christ Will Be Lifted Up that men, women, boys and girls might ask, "What must I do to be saved?"  Acts 16:30.  For Jesus Tells Us In Matthew 24:11) And many false prophets shall rise, and shall deceive many.  1 Timothy 4:1.  12) And because iniquity (wickedness) shall abound, The Love Of Many Shall Wax (Grow) Cold.  13) But he that shall endure unto the end, The Same Shall Be Saved.  Amen.  So let's hope that God Has A Message For Us Through This New Series that even the Networks will be satisfied with.  If Not, We Still Know Who Is In Charge, Our Heavenly Father And His Son, Jesus The Christ our Lord And Saviour, For They Rule And Super Rule The World And All Of Creation.  For "The Lord Hath Prepared His Throne In The Heavens; And His Kingdom Ruleth Over All.  Psalm 103:19.  Amen.
SO, in the beginning I was very excited that there was going to be a new series titled "The Young Pope."   I have always been a fan of Jude Law and he looked so beautiful with just the right amount of crazy.  And at first his portrayal of a Young Pope was almost too crazy and somewhat disappointing.  But, because I am very much interested in the Vatican and the going's on there I continued to watch, after all It (The Vatican) is Itself beautiful and I believe it to be completely dedicated to The Worship And Praise Of The Holy Father.  But, of course, mankind has it's faults and sins and "The Young Pope" is portrayed as arrogant, obnoxious and judgmental as anyone would be that has received such a tremendous appointment from God.  There is, however, conflict in The Holy See.  A struggle for power, jealousy and a somewhat constant hope for absolution among the priests.  There are also glimpses of the human side of the Young Pope that are funny and sometimes ridiculous.
But mostly, He is a suffering Leader of God's People having been traumatized as a young boy by his parents and longs to see them and to understand why and how they could have done such a terrible thing to him.  And this is good, it gives us something to relate to, we all may have had our hearts broken by some disappointment or other and may have suffered feelings of abandonment at some point in our own lives.  Is it possible that his mother had some premonition or insight into the future of her son and knew that she could not provide the support needed to equip him for his great destiny? Sometimes God Through His Infinite Wisdom will strip us of all worldly hopes and dreams and attachments in order to prepare us for His Purpose.  Just as John The Baptist was in Matthew 3:4) And the same John had his raiment of camels' hair, and a leathern girdle about his loins; and his meat was locusts and wild honey.  Psalm 81:16; Ezekiel 27:17; Luke 24:42.
I was afraid that The Young Pope was going to be a great disappointment, but I'm happy to say that it looks like the ground work has been laid for a Pope that may be preparing God's Church for The Second Coming Of Jesus Christ.   The Young Pope may be somewhat like John the Baptist that cried "Repent ye: For The Kingdom Of Heaven Is At Hand."  Matthew 3:2.  He doesn't care if you like him and I don't think he particularly likes the congregation of Catholics whom he has been appointed to lead.  His message is, "Either you're with me or I'm going to make sure you're going to Hell."  WONDERFUL!